St. Petersburg Kitchen Remodeling
With a top-notch St. Petersburg, FL kitchen remodeling package from Flagstaff Builders, you won't just impress your friends and guests. You also get the chance to significantly improve your experience in cooking, meal preparation, cleaning, storage, and other activities done in the kitchen.
Let our team of home improvement specialists upgrade your kitchen with various remodeling designs that will work best for the creative vision you have for your home. We are also always ready to provide you with the best recommendations that we can provide to make sure that you end up with an extremely attractive and functional newly refurbished kitchen space.
We are experts in customized home remodeling projects, from luxurious visions to more functional designs. Regardless of the specific look, feel, or style that you want your home to have, we can exceed your expectations with the final product. We will do everything we can, not just to pull off the designs that you want to have but also to improve your overall kitchen experience. We do this by analyzing how you interact with your kitchen and examining the various cost-effective solutions that would work best for you accordingly.
We are proud to have gained years of experience helping people from all walks of life have a better time in their homes, from neighborhood homeowners to high-profile personalities. Whether you're looking for simplicity or luxury, Flagstaff Builders is the best choice you can make for all your St. Petersburg kitchen remodeling needs.
Call Flagstaff Builders today at (727) 240-3921 for your Free Consultation with a St. Petersburg Kitchen Remodeling expert!
Reimagine Your Kitchen
No one needs to settle for a dull or generic kitchen layout and interior design. With Flagstaff Builders, you can get reasonably priced upgrades for your kitchen, improvements that depend on your specific needs and tastes as the homeowner. We can add high-tech, smart upgrades, improve the functionality of the layout of your storage units, or make everything more beautiful!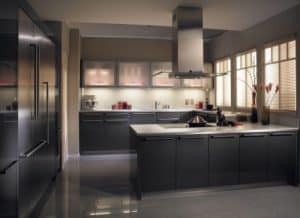 Smart features such as hidden wastebaskets for your cabinets or islands and bars that can increase seating capacity will all be well considered during our project planning. We want to know not just your visual tastes but also your activity preferences for your kitchen. This way, you get the optimized version of your kitchen.
We understand how overwhelming it can be to choose among the many improvements you can make to your kitchen. So don't worry. Instead of laying out an endless list of samples and options, our experts will hold a thorough consultation session with you so they can truly understand what you want for your kitchen and home.
We will then create a design and layout plan that we think best encapsulates your vision. We will include everything we learn about your personal preferences, dislikes, budget limitations, and other important factors. Instead of trying to pick every little detail of your cabinet doors or your island layout, you can leave the nitty gritty work to us so you can focus on the bigger picture.
We are capable of catering to any customized design that you want for your kitchen. We will take careful time in going through the entire process. If you see any necessary changes, we are always willing to go back to the drawing board just to make sure that you are fully satisfied with the final product. Whether you just want to make small changes to your kitchen or you want a full-blown transformation project, you get the best of the home improvement industry from Flagstaff Builders.
Functional Kitchen Redesign
No one can deny the importance of the kitchen to the home and to the family. It is not just a place where people meet to make good food, store kitchenware, or prepare meals. It is a place where people make special memories and connections.
We are here to offer the best of our St. Petersburg kitchen remodeling services, whether you want to have a total transformation of your kitchen or you want to make small adjustments. We can make big changes, such as installing natural stone countertops or reorganizing the layout of your kitchen. We can also do smaller projects, such as replacing your cabinets or adding a few more seats to your bar. Whatever it is you need, we'll make sure that we'll apply the best and most cost-effective methods and solutions to pull them off perfectly.
We are passionate about helping make lives better by providing excellent St. Petersburg kitchen remodeling services to our clients. By analyzing your kitchen space thoroughly and asking the right questions, we find the best possible improvements that we can make to your kitchen.
Complete Kitchen Remodels
Flagstaff Builders is a leading provider of high-end St. Petersburg kitchen remodeling services that are tailored toward the specific needs and preferences of our clients.
We have a team of highly trained and experienced home improvement specialists that will handle the entire process of your remodeling project. We are adept at making unified, cohesive design upgrades for all parts and aspects of a kitchen. Our goal is not just to make things prettier but also to improve the quality of life of those that use the room through intuitive functionality upgrades.
We are ready to work on virtually any part of your kitchen, from countertops and cabinets, to bigger portions like floors and layout. Working with a top-rated professional service provider like Flagstaff Builders gives you the opportunity to have not just a top-notch remodeling product but also a planning and construction process that is very convenient and comfortable for you.
We make sure that our clients don't make the wrong decisions. So our experts are always there to help them go through their thinking processes about their home remodeling project. In the end, all we want for you is to immediately enjoy a beautiful, elegant, functional, and high-value kitchen that improves your family's life significantly.
Let's Talk Now – Free Consultation
Enjoy the life-changing experience of Flagstaff Builders's St. Petersburg kitchen remodeling service package. You get the kitchen and home of your dreams for the most reasonable prices and the most comfortable planning, designing, and construction process.
Contrary to popular belief, having a luxurious kitchen and home through construction upgrades is not just for the wealthy. You can get the best one at Flagstaff Builders. We are ready to talk about your vision, creative preferences, dislikes, budget limits, scheduling, and other important considerations so we can create the flawless, functional, and utterly beautiful kitchen that you're dreaming of.
Call Flagstaff Builders today at (727) 240-3921 for your Free Consultation with a St. Petersburg Kitchen Remodeling expert!